By Dr. Robin Grenier
Tuesdays are my busy days this semester. It typically goes like it did yesterday:
6:30am: Up to drive carpool to get my kid and some neighborhood kids to school
7:00am: Hit the gym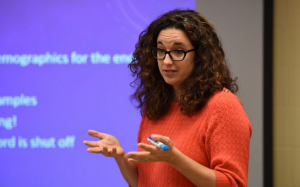 8:00am: Home to eat breakfast, answer emails, and get ready for the day
9:00am: Arrive at the office, answer emails, review materials for first class of the day, peer review a manuscript
11:00am: Class
12:45pm: Grab lunch and head back to the office
1:00pm: Meet with colleague about an advisee
1:45pm: Meeting with colleagues and GA to plan a research study
3:00pm: Eat lunch that I forgot about, answered emails, prepped for second class
3:30pm: Leave campus and picked up daughter, go home, answered emails, clean kitchen
5:30pm: Grabbed a coffee, returned to campus, and finalized prep for second class
6:30pm: Class
9:00pm: Finish class, returned to office to write an email to the class to clarify and issue that was raised during discussion
9:50pm: Returned home and eat dinner
I offer this not for sympathy or accolades (because so many of my colleagues have similar days), but to say that this morning, as I walked to my office, I thought to myself, "I got nothing done yesterday."
Being at a research-intensive university means that productivity is most often tied to engaging in research that produces new scholarship. So, if I compare that standard to my timeline from yesterday, it is not surprising that I believe I got nothing done. Of the ten hours spent on campus yesterday more than half was related to teaching. Between following up with students through email, checking in with my TA, prepping notes/materials/teaching plans, and the teaching, I actually got a lot done yesterday. Yet, here I was this morning telling myself the opposite.
Accurately capturing teaching productivity for yourself or your institution is a challenge. Universities might use teaching load as an indicator of productivity, but this can be misleading since teaching can look quite different across individuals, programs, and disciplines.
For me personally, teaching is central to my role and identity as a professor. I see it not simply as a requirement for tenure and promotion, but as foundational to society. This is because I don't just teach content in my classes, I teach critical thinking, transfer and application of knowledge, writing and speaking skills, teamwork, and self-directedness. Like many female faculty, I strive to apply student-centered pedagogy in my courses (Hurtado, Eagan, Pryor et al., 2012) and this takes more time, mental energy, and preparation of resources than more traditional lecture approaches. This is to say that my productivity is not always apparent since the results of my work can come long after the class has concluded. Many might also look at teaching evaluations to validate their teaching productivity, but these speak more to the students' limited view of faculty productivity- it doesn't account for meeting with individual students, the redesign and improvement of content, or professional development time spent to improve teaching practice. I get a boost to my self-confidence when I receive my scores at the end of a semester, but it does nothing to reassure that what I did during any particular day mattered.
When an institution or a faculty member simply measures teaching productivity by numbers of students enrolled, hours spent in the lecture hall or student satisfaction, they fail to honor the complexity of teaching.
So what does that leave me with? What I offer myself (and others struggling with the same lack of assuredness) are several questions to ask before jumping to the conclusion that "I got nothing done yesterday":
Did I use standards of research productivity to assess my work instead of standards of teaching productivity?
Did I contribute in some way to improving my teaching practice-through seeking new knowledge, experimentation, development of materials and activities, or self-reflection?
Did my students learn something or think in new ways or about new ideas? Or at the very least, did I create an environment and culture for that to happen?
If these questions aren't right for you, that's okay. Find ways to evaluate your progress and growth as an instructor that are realistic, reflect your philosophies of teaching, and reaffirm your goals as a professional, so that the next time you think "I got nothing done yesterday" you can stop, check your assumptions and instead say, "Wow, I got a hell of a lot done yesterday."
---
Hurtado, S., Eagan, M. K., Pryor, J. H., Whang, H., & Tran, S. (2012). Undergraduate teaching faculty: The 2010–2011 HERI Faculty Survey. Los Angeles: Higher Education Research Institute.
---