By Emma Bjorngard & Kristi Kaeppel
On September 5, 2017, Trump announced that his administration would phase out Deferred Action for Childhood Arrivals (DACA) over the next two and a half years, leaving it to Congress to take up legislation in the next 6 months.
As instructors who have worked with vulnerable populations, our thoughts immediately turned to our students' well-being and to considerations of our roles as teachers in supporting them as they, or loved ones, navigate an uncertain future. Rather than speculate, we wanted to capture the voices of the students themselves and ask them directly how instructors and higher education professionals can support–or at least avoid making life harder–for them.
Ph.D. candidate Emma Bjorngard spoke to an anonymous student about her reaction to the announcement and her insights on how those within the academy can be more supportive.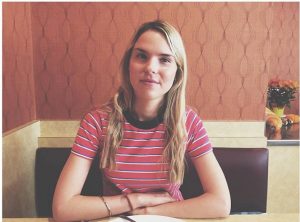 ---
Emma: I wanted to first ask your major and what your plans after graduation are.
Student: Honestly, before this whole thing happened with DACA, I had this plan that I was going to graduate and work and keep working and eventually go to grad school, but if I don't have DACA, then I can't work, so right now, I'm just kind of living week by week. My goal right now is just to graduate and see what happens. I have to get certified to be able to work and I don't think I'm going to. It's just a lot of money (to get teacher certification). I don't think I'm going to do that yet because it's a lot of money and I don't even know if I will be able to use my certification.
E: Has life changed for you since the election, and if so, how?
S: Yeah,  definitely. . . I remember the day after the election, I had class. The teacher felt the need to bring it up. And I started crying and other people started crying. I was still in shock. I think I was naive to believe that the outcome was going to be different, but after that, after letting it all out, I was like I just can't spend the next 4 years crying, so I reached out to my professors and they connected me to Connecticut Students for a Dream (CT4D) where I met some awesome people.
I always lived in fear because of my status, but now it's different because I have a community of people who support me and who are there for me. My life has changed, but I feel I'm happier and more supported. My mental state is much better. I've learned so much from these people. I feel like I've grown more scared for my parents and my friends who aren't part of the movement, who are still in the shadows.
I remember when the announcement for DACA came out. I was so lucky that I was on a bus full of people from CT4D and allies going to Washington D.C. Literally my world was falling apart, but I was surrounded by all these people. I remember watching the announcement on a laptop with them and I was just like wow, I am so fortunate that I have this community and I don't have to feel alone. It's been great to have found this community. I've been part of CT4D for less than a year and now I'm doing interviews. I'm on YouTube and I'm organizing more, and I'm a completely different person than I was a year ago.
I have never felt empowered before. Being a part of this community has helped me to learn more about my status. I used to always look at the Facebook comments before on immigration, and I was like wow, are they true? I felt I didn't have the right to say anything. After learning so much and being with this community, I know I do have rights and I have the right to demand them.
E: What do you wish your professors and other higher education professionals knew or understood better about your experience as an immigrant?
S:  
I wish professors understood that on top of the stress of going to school and paying for school and doing all that, I have this other life. I feel like I live a double life when they don't know about my status. I'm dealing with all these things.
I remember before I was out, I was just having a horrible time mentally. My mental status was not at a good place because of living with this fear and experiencing things other people don't experience–like family members being deported.
I think for any teacher–with any student–they should take into consideration that their students have lives outside of school… that there are other priorities too. I remember meeting with a professor, and I was waiting outside his office. There was a girl telling me how stressed she was because she was working 40 hours. We were just talking for a little, then she went in and the professor was like, 'you should really rethink working so much. School should be your number 1 priority.' And I was like, wow, she had just told me she was paying for school by herself, and if she wasn't working, she couldn't go to school. I just wish they would take that in consideration.
E: What other kinds of support on campus would make you feel more empowered?

S:  [At CT4D] We do undocu-peer trainings. They're for educators, and we educate them about what it means to be undocumented, the experience, and the barriers and how we go through college– why we aren't eligible for some loans. I wish all professors attended them. They learn so much and that's a way for them to guide their students or connect them to us (CT4D). I was empowered when I was connected to people who understood me and were in my situation. Also, just uh, after the DACA announcement, there was an email sent out by [someone] misstating the number of DACA students. Facts, right now, are so important. Please, know your facts.
To help know your facts, browse the following resources:
Immigrant Legal Resoruce Center End of DACA FAQs
CT for a Dream Info Sheet for Educators
---