By Emma Björngard-Basayne and Kristi Kaeppel
Last spring, as we made that precarious leap from a school friendship into a full-blown, text-every-day, drink-wine-together-on-weekdays-friendship, a curious thing started to happen. The daily anxieties and feelings of self-doubt that accompany being a graduate student started to weigh less heavily on us. Over coffee, we chatted excitedly about our school work, ideas for conferences, and projects together. We recognized a new energy toward our work and a blossoming sense of confidence that has been guiding us through it more enjoyably. As we became conscious of the way our friendship was empowering us in our work as doctoral students, aspiring scholars, and teachers, we started to wonder whether what we were experiencing was part of a broader phenomena. Across academia, were women lifting each other up, quelling imposter syndrome, and catalyzing each other's careers?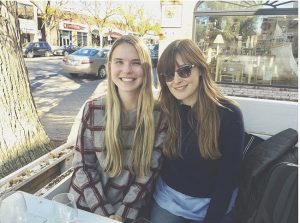 To find out, we reached out to women from different departments, asking how female relationships have impacted their experience as graduate students and faculty. Below, we have highlighted some of their responses by theme. At the end, we draw implications for instructors on how they can facilitate a supportive environment in their classrooms and amongst themselves in their departments. We should note these suggestions are by no means comprehensive, but rather represent an initial attempt to consider the many ways our educational and workplace environments could be made more empowering through rejecting the emphasis on singular achievement and instead recognizing the mobilizing forces of collaboration and support.
Navigating a Hostile Landscape Together and Validating Each other
One UConn professor explained the pivotal role that a female colleague played in helping her navigate an institution that "provided no mentoring, no guidance, no standards, no regular feedback from my senior colleagues" and where "anybody who was a person of color or female were made to feel they did not belong." Over lunch meetings, the two validated each other's impressions of the hostile environment and shared advice on the strategies to "make it" and manage time, a task that can be especially difficult when one feels compelled to fulfill the stereotypical role of a woman as an ever-available helper. She explained that "her sharing reality with me helped me keep my sanity and validated my own judgments."
Similarly, another professor shared how she and one of her female coworkers navigated the male-dominated landscape together, "We would meet every couple weeks, ostensibly to meet about science, but we ended up talking about how to negotiate the politics and the old men who were there." After encountering some sexist behaviors, they helped validate each other's concerns. "[We would ask one another] 'Do you think that was sexist?' We would brainstorm; "How could we have headed them off? We got to talk and strategize."
Helping Each Other Prepare and Speak Up
A few graduate students mentioned a practice where they regularly meet up before lectures to go over the assigned readings and share questions they are going to ask in class, so as to feel more comfortable when the time comes.
To combat intense feelings of anxiety, the two have also made a pact to look at each other while presenting their papers in class. Finally, taking a note from the women in the Obama administration, they intentionally step in when a woman is overlooked in discussion to give her the floor again; for example, "Sorry, Anna, I think you were saying something?"
In another strategy that emphasizes female voices, a professor shared with us how her and her female colleagues show up at each other's conference panels to ask questions that are designed to emphasize what's important about the presented work.
Providing Feedback For Each Other

For one professor, a female's feedback proved incredibly valuable to her career. She explained "I have had written drafts read by other women with great feedback for revisions, and I've read others' work as well. I had one female colleague in particular read a draft for a large external grant proposal and received massive feedback for revisions; upshot was I got nearly $100k from NSF from it!"
Another female faculty member has found an enduring and supporting relationship with a former graduate school classmate. "I meet weekly with an assistant professor at another university with whom I went to graduate school. We use this time to check in about the various projects we are working on and brainstorm ways to move past any roadblocks that inevitably come up."
Ways to Encourage Female Empowerment Inside and Outside of the Classroom
After having considered these comments from our colleagues, we want to suggest small but impactful ways that we, as instructors, can facilitate support for our students and ourselves as women in academia. These suggestions counter what we see as a problematic hyper-individualist scholar mentality in academia and align with a view of education that is more collaborative and supportive, mirroring the way learning occurs.
To start, we suggest being mindful of the way the classroom environment shapes who participates. By participation, we do not always mean verbal participation, as for some students, thinking and writing may be a more natural mode of processing (for ideas on how to elicit unheard voices in classes through alternative forms of participation, see this previous blog post).
It may help to make explicit to students common ways that people may become disenfranchised from speaking–for example, because of being interrupted, being mansplained, or having their comments go unanswered or uncommented on, etc.
See Jessica Valenti's book Feminist Fight Club for a more in-depth discussion. We should consider these subtle ways of undercutting people's voices not only in our classrooms but in a range of venues, including faculty and departmental meetings.
Instructors can also create opportunities for students to give each other feedback and support by setting up writing and project feedback groups. Again, we can use this in our own work with peers by seeking feedback on our lessons, research projects, conference presentations, and other endeavors. For us, having another person to share the first shadows of an idea with has helped us to clarify our ideas and validate that they are worthwhile.
On a departmental level, administrators may want to consider setting up supportive communities, such as the UConn's chapter of the Society for Women in Philosophy, which aims to foster a community of support, discuss climate issues, and provide networking opportunities. In addition, a group concerned with the overall climate of the department might also be appropriate (again, see the philosophy department's Climate Committee).
On a closing note, we are thankful for the female support we received in writing this blog post, as many chimed in to cheer us on in this endeavor even when they could not contribute themselves. As one participant exclaimed, we "lift each other as we climb!". Finally, we would be remiss to not mention the origin of this idea–Ann Friedman's and Aminatou Sou's discussion of Shine Theory, based on the idea that "I don't shine if you don't shine!" (Read more about it in Friedman's article for the Cut).
---