By Robin Grenier
When I began my graduate program, the internet was just beginning to gain popularity as a research tool in academia. Faculty still relied heavily on filing cabinets filled with copies of articles from paper journals that were painstakingly copied, resized, and retained for use in their classes. I remember the day my advisor thought it was cool when I showed her a thumb drive for moving files from one computer to another. In a time before the cloud, flash drives, and folders on a computer desktop, how did faculty keep their materials organized for class? Well, I can tell you because I still keep things old school.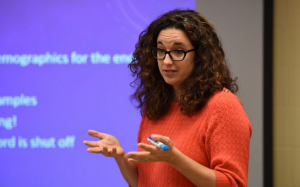 I am the kind of person that needs to hold the paper, turn the page, and make notes in my own hand in the margins, so although I have electronic files for class materials, I prefer to use my binder method. For each course I teach, I keep a large binder that is organized by each class meeting or by week and has a hard copy of each class agenda, article, handout, PowerPoint, and my notes.
If you're like my spouse, who lives, breathes, and works in technology this approach might seem silly, and that's okay. Whether it's Google Docs, Blackboard, or a giant three ring binder, my hope is that college instructors will find an organizational approach that saves them time and energy and gives them one less thing to worry about. For those struggling to stay organized and make sense of all their materials this old school binder method might be useful for a few reasons:
It helps me see the big picture for a new course.

If I am taking on a new prep or course, I can get overwhelmed pretty quickly with possible readings, assignments, class activities– you name it. I find that using my binder method helps me to keep control. I start with an empty binder and add tabs for each class meeting. Based on the topic of that class I begin to add possible readings and other materials I will or I might want to use for that class. This process helps me in a few ways. First, I can see what I am missing, which weeks are thin on content, or conversely, which weeks have too much content. I can then adjust accordingly. And second, it helps me to see the big picture and get a sense of the course flow–how activities or assignments link to readings or lectures from class meeting to class meeting.
It makes course updating easy.  

The binder method is most valuable for courses I teach regularly. As I teach a class I make notes to myself on the copy of the syllabus or agenda or take note of issues students or I encounter with readings. I note things like did a class activity take longer than expected? Or, do I think it would be helpful to give students an overview or guiding questions for a particularly difficult reading the next time it is assigned? Or I might note that a reading is getting too dated or that I might want to look for something new or better to read instead.
These great thoughts on improving my teaching practice and my curriculum happen when I am in the moment (literally in class or immediately after), but if I wait to update my syllabus and materials until right before I teach the course, much of my own learning and the experiences of teaching at the time are lost. The binder is way for me to keep track of that new learning.
In June when I open the folder there are all my ideas from fall semester– hints about what to do or not do again.
Like many academics, I am always finding new articles, research, and resources, and I have a huge folder on my desktop of PDFs to read, but that can be a pit too deep to work through. With my binder, I can find and print an article in January that I will consider using in my class in earnest in July and use it in class in November. I also take comments from student evaluations that address certain activities, readings, or assignments and note those on Post-it notes at the appropriate spot in the binder so that I can consider additional improvements.
It facilitates class prep. 
Keeping my binders also helps with class prep. I can open the binder to the correct week and quickly see exactly what needs to be done to prepare and have materials at my fingertips to make copies for students or bring with me to class. This is great for my GAs too since I can send them to a binder to grab a resource or to help me prep for class. Additionally, several years ago, I discovered one advantage to the binder I hadn't anticipated. I had an unexpected death in my family and left the state suddenly to help my mom. Several colleagues and GAs stepped up to help me cover the classes I was going to miss. With a binder on the shelf I could tell them where to find materials for the class and they could see the syllabus. They also were able to see what we did the previous week and what was coming up next. The same was true when I went on my sabbatical. The instructor who was taking on my course that semester could use the binder to see how the whole course was conducted and the materials I used and adjust them according to their needs. I have found that for me, the use of the binders cuts down on the need to "send" materials, share large files, and grant user access. It's simple and because everything is visible and in order there is no guessing on which file you need, why, or when.
---