By Timothy Bussey
If you've been following my posts, you'll notice that I focus on the overarching trend of LGBTQIA+ support and inclusion in higher education. In my first post for this blog, I discussed the rather broad topic of how to support LGBTQIA+ diversity in your college classroom. I'm going to follow-up with that post's third point on showcasing diversity on the basis of gender and sexuality in your curriculum. While I realize that my own teaching in the Women's, Gender, and Sexuality Studies Program here at UConn often automatically incorporates this type of inclusivity, I'm also a firm believer that many disciplines can make more positive strides toward LGBTQIA+ inclusive curricular decisions.
Below, I've listed some reasons why we should all consider creating a more LGBTQIA+ inclusive curriculum. While these aren't the only reasons for caring about these inclusive curricular decisions, these three points will likely resonate in different ways. Additionally, these three reasons focus on distinct areas that we, as instructors, value in some form or fashion: 1) our discipline, 2) our pedagogy, and 3) our students.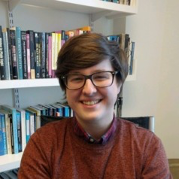 A disciplinary reason: LGBTQIA+ inclusive curricular decisions can ensure that you better represent the diversity within your own discipline, its scope of inquiry, and its history.
In my home discipline of political science, there is still a negligible amount of inclusion in teaching about LGBTQIA+ issues. Julie Novkov and Scott Barclay's (2010) research on a discipline-wide survey revealed that only 22.5% of LGBT respondents and 11.6% of straight respondents reported regularly teaching about topics or issues relating to sexual or gender diversity in political science classes. My own teaching in that discipline often incorporates issues and examples pertaining to the LGBTQIA+ community, and I believe that these decisions also reinforce yet expand my discipline's scope of inquiry, which extends to multiple aspects of 'the political.' For other instructors, the disciplinary argument for the inclusion of LGBTQIA+ issues and topics may, of course, be different. Even so, there are numerous disciplinary-specific resources, such as those offered by the UConn Rainbow Center, available for instructors in business, the humanities, social sciences, and even STEM fields. Additionally, such inclusive decisions are a great way to highlight diversity within the history of your own discipline, and Ken Bain's (2004) What the Best College Teachers Do actually notes that having a strong working knowledge of one's own discipline was a commonality among the best collegiate instructors.
A pedagogical reason: Including LGBTQIA+ topics can create an added layer of complexity to your curriculum, which can exercise students' critical thinking abilities.
Along with the previous point, this pedagogical reason may look different in each our disciplines and classes. As such, I'll offer a personal anecdote to demonstrate how this inclusion can affect our pedagogy. Next term, I'll be teaching a political science class, POLS 2072Q: Quantitative Analysis in Political Science. I specifically challenged myself to think of ways that I could better incorporate diversity into this class, which is often stereotypically characterized by students as 'just a stats class.'
After brainstorming how to incorporate LGBTQIA+ topics into the course material, I realized that this inclusion would have several pedagogical benefits. First, it will foster more complex analyses in regards to both descriptive and inferential statistics, which the class will work heavily with throughout the term. Second, it will signal that I am an ally and resource to students within the LGBTQIA+ community. Third, it will add a complex and interesting element to a class environment that is generally stereotyped as potentially less than exciting, given its focus on numbers. Fourth, it will ensure that I differentiate my curriculum to include timely contemporary issues into our discussions, which has the ability to further engage my students. In sum, we, as instructors, can also create this added layer of complexity, innovation, and interest in our classes by developing a more LGBTQIA+ inclusive curriculum.
A student-centered reason: A more inclusive LGBTQIA+ curriculum can augment support systems for students of diverse genders and sexualities in higher education.
As noted in the anecdote above, student support is a key benefit of a LGBTQIA+ inclusive curriculum. Incorporating LGBTQIA+ issues and topics into your course design can signal your ally-ship to students. Additionally, recent research has shown that supportive faculty can be highly influential to the success of students of diverse genders and sexualities in a collegiate environment. This type of vocal support and ally-ship for LGBTQIA+ students is critically important, especially since a number of issues can affect their college experience. For instance, The Atlantic (2015) reports that "three in four LGBT students reported experiencing sexual harassment" throughout college. Furthermore, the prevalence of heterosexism on college campuses has spurred new discussions regarding its negative impact on the academic success and mental health of students of diverse sexualities. However, it's important to note that these pervasive issues often begin well before college. GLSEN's (2016) report on the experiences of middle and high school students highlights issues of homophobic and transphobic discrimination, bullying, and harassment in these environments too. In this report, GLSEN suggests that inclusive curricular decisions may have a positive impact on the experiences of LGBTQIA+ students. In short, there are numerous issues that LGBTQIA+ students face in educational environments, and I've certainly not mentioned all of them here. However, these issues can begin to be addressed by creating support systems for LGBTQIA+ students, demonstrating ally-ship to students in this community, and making more inclusive curricular decisions in our classes.
---